100~300W Low Power DC to AC Sine Wave Car Power Inverter
car power inverter features:
1.Input Voltage 12V /24V/48V DC optional
2.Output Voltage 115V /230V AC optional
3.Portable power for AC products, AC outlets for connecting multiple loads
4.High surge capacity for products that require more power to start
5.High efficiency converts virtually all of the battery's power to AC
6.Mounting brackets for convenient installation
7.Heavy duty stud-connection mounting
8.Overload protection, input reverse protection, short circuit protection
car power inverter specifications:
Parameter

MSI-100

MSI-150

MSI-200

MSI-300

Continuous Output Power (Watt)

100

150

200

300

Output Peak Power (Watt)

200

300

400

600

Input Voltage (DC)

12V(11~15V) / 24V(21~29 ) V / 48V(42~58V)

Output Voltage (AC)

100~120V / 220~240V

Frequency

50Hz / 60Hz±3Hz

Output Waveform

Modified sine wave

Efficiency

85~90%

Low Battrey-voltage Alarm (Volt)

10.5V±0.5V / 21±1V / 42±2V

Low Battrey-voltage Shutdown (Volt)

10V±0.5V / 20±1V / 40±2V

Over temperature shutdown

< 65°C

Available Protection

overload protection, input reverse protection, short circuit protection

Cooling Mode

By Fan

Replaceable Fuse

15A

20A

25A

35A

Accessory

Cigarette lighter(included)

Dimension(L*W*H)mm

95*70*46

105*70*46

125*90*46

125*90*46

Weight(KGS)

0.35

0.36

0.5

0.55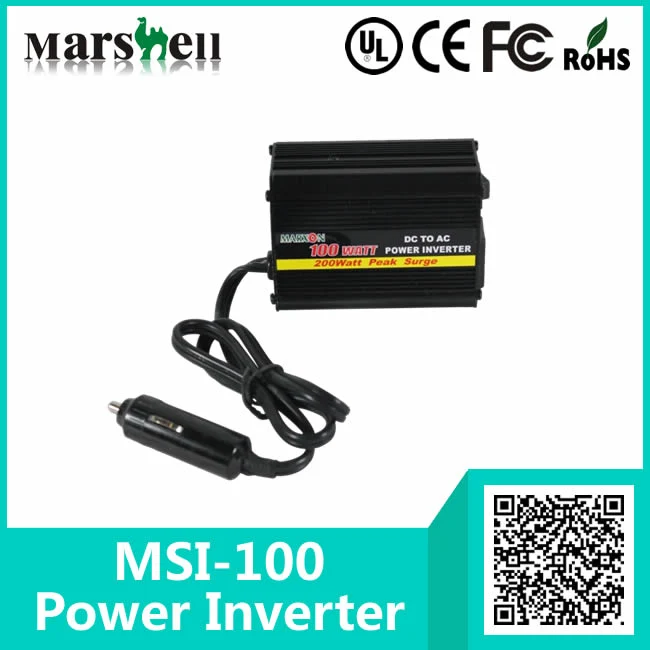 Who is Marshell?
Marshell was founded in 2002 with two business units, Electric Vehicle and Electronics. The core business of Marshell Electric Vehicle is in the research, development and manufacture of low-speed electric vehicles including mobility scooters, golf carts, resort and utility vehicles, etc.
Whereas, Marshell Electronics, of automotive and home power products including battery charges, battery maintainers, power inverters, jump starters, portable power domes, solar power extenders, etc.
How do you benefit?
Working with Marshell, you can enjoy considerable benefits with added values:
The full spectrum of electric vehicles, automotive and home power products of the highest possible standards of quality and performance.
Great flexibility of production capacity enables you to fast meet the market change and demand with our two ISO9001:2000 certified factories, strategically located in Zhaoqing and Shanghai with a total of 210,000 m2 of fully equipped workshops.
Cost down on your existing products to regain your competitiveness and market shares with our proven quality and competitive price.
Full service and support on product upgrade and new product engineering, fast to market at minimized cost with our engineering team of more than 100 engineers for OEM and ODM projects.
Company Information