500-12000W Intelligent Inverter Solar Power Inverter Pure Sine Wave Inverter Charger



Hybrid Solar Inverter Power Inverter With Controller Inside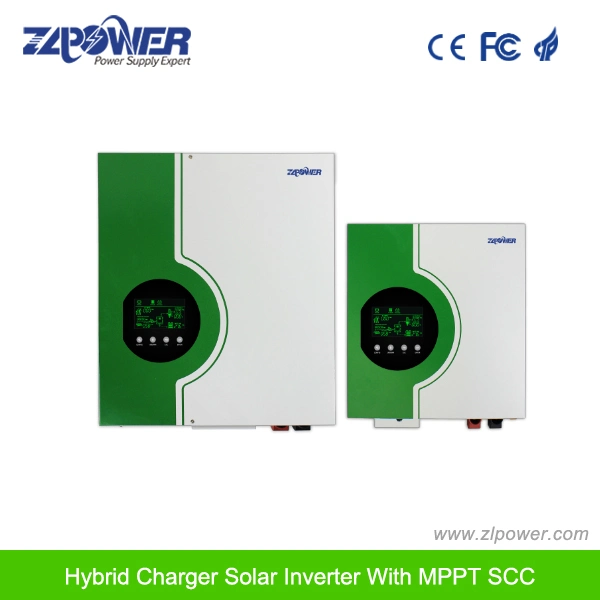 PSC Plus Series 3KVA 5KVA Off Grid high frequency pure sine wave inverter with MPPT controller

1. high frequency based on IGBT technology, low comsumption
2. Compatible to mains voltage or generator power.
3. Auto restart while AC is recovering.
4. Selectable Solar or AC priority
5. Adjustable charge current, solar and AC charger
6. Optional remote LCD display
7. 80-270vac Wide Input AC Voltage
8. LCD display can show Solar generation



Specification
Model

PSC Plus3K-24

PSC Plus5K-48

AC
Input

Nominal Power

3KVA/2400W

5KVA/4200W

Input Voltage Waveform

Sinusoidal (utility or generator)

Nominal input Voltage

230VAC

Low Line Disconnect

170Vac±4%(Normal) or 90Vac±4% (Wide&Gen)

175Vac±4%(Normal) or 125Vac±4%(Wide&Gen)

High Line Disconnect

280Vac±4%(Normal) or 280Vac±4%(Wide&Gen)

280Vac±4%(Normal) or 280Vac±4%(Wide&Gen)

Max AC input Voltage

Max:300VAC

Frequency

50Hz/60Hz(Auto detection)

AC
output

Output Voltage Waveform

Sine wave

Power Factor

0.8

0.84

Bypass Breaker Size

30A

40A

Nominal Output
Frequency (Hz)

50Hz / 60Hz ± 1Hz

Capable of starting electric motor

1.5HP

2.5HP

Full load efficiency

90%

Solar
charger

Charger mode

MPPT

Maximun PV Array Power

960W

2800W

Rated Charge Current

40A

60A

PV Low Voltage Disconnect

25VDC±0.6VDC

50VDC±1.2VDC

PV High Voltage disconnect

75VDC±0.6VDC

150VDC±1.2VDC

Efficiency

≥98%

AC
Charger

Nominal Charger Current

20A @170Vac~280Vac; 10A @90Vac~170Vac

25A @180Vac~280Vac; 20A @125Vac~180Vac

Over charge Protection

30VDC±0.6VDC

60VDC±1.2VDC

Floating Charge Voltage

27.4VDC±0.6VDC

54.8VDC

Battery
Voltage

Nominal DC input Voltage

24VDC

48VDC

Low Battery Alarm

21VDC±0.6VDC

42VDC±1.2VDC

High DC input Alarm & Fault

29VDC±0.6VDC

58VDC±1.2VDC

Transfer Time

Normal range : 10ms (typical) 15ms (max)
Generator/wide range: 20ms (typical) 40ms (max)

System
Parameter

Over-Load Protection

110%the output,load≥150%,beeps 0.5s every 1s,and Fault after 5s

Output Short Circuit Protection

Current limit (Fault after 4 cycles max)

Surge Rating

1:2(VA)

Protections

Low battery, over charging, over load, over temp

General
Specifications


Operating Temperature Range

0ºC to 40ºC

Storage Temperature

-15ºC~60ºC

Operation Humidity

5% to 95%(non-condensing)

Audible Noise

60dB max

cooling

Forced air,variable speed fan

Dimension(L*W*H)

326*268*88.8mm

456*356.8*118mm

Net Weight(kg)

5.6

11.1

*****************************************************************************************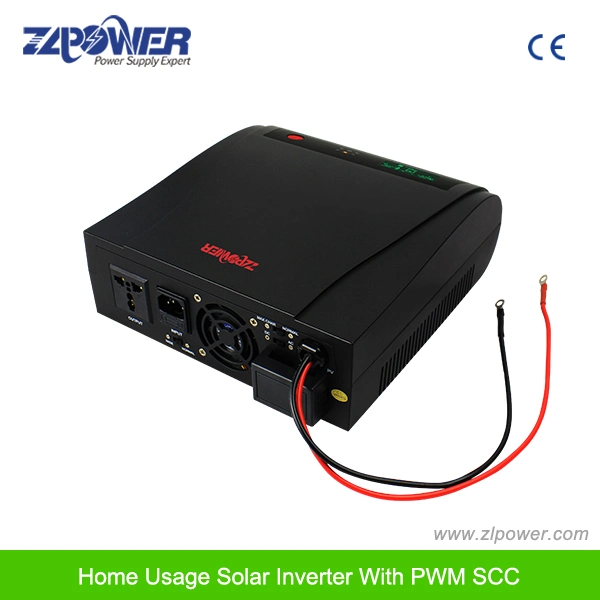 HD Plus Series 1KVA 2KVA Off Grid high frequency Modified sine wave inverter with PWM controller

1. high frequency based on IGBT technology, low comsumption
2. Compatible to mains voltage or generator power.
3. Auto restart upon AC recovery.
4. Selectable Solar or AC priority
5. Adjustable charge current, solar and AC charger
6. Optional remote LCD display
7. 80-270vac Wide Input AC Voltage
8. Built-in solar charger controller up to 40A.
9. LCD display can show Solar generation



Specification
Model

HD Plus1K-12

HD Plus2K-24

AC
Input

Nominal Power

1KVA/720W

2KVA/1300W

Input Voltage Waveform

Nominal input Voltage

Nominal input Voltage

230VAC

Selectable Voltage Range

165-270Vac±4%(Narrow Range), 85-270Vac±4%(Wide Range)

Max AC input Voltage

Max:270VAC

Frequency

50Hz:or 60Hz

AC
output

Output Voltage Waveform

Modified sine wave

Voltage Regulation
(Batt.Mode)

230VAC (+10% / -18%)

Nominal Output
Frequency (Hz)

50Hz or 60Hz (Auto detection)

Transfer Time

15ms Typical, 20ms Max.

Solar
charger

Charger mode

PWM

Maximun PV Array Power

450W

900W

Optimal Work Voltage Rang

15VDC-18VDC

30VDC - 36VDC

MAX. PV input Voltage

55VDC

MAX. PV input Current

40Amp

AC
Charger

Charging Algorithma

3-step charging

Nominal Charger Current

15 Amp or 20Amp Selectable

10Amp

Floating Charging Voltage

13.7VDC

27.4VDC

Over charge Protection

16VDC

32VDC

Efficiency

Efficiency (Battery Mode)

>80%

Efficiency (Line Mode)

>95%

Battery
Voltage

Nominal DC input Voltage

12VDC

24VDC

Low Battery Alarm

10.5VDC±0.3VDC

21VDC±0.6VDC

Low DC input shut-down

10VDC±0.3VDC

20VDC±0.6VDC

High DC input
Alarm & Fault

16VDC±0.3VDC

32VDC±0.6VDC

System
Parameter

Protections

Low battery, over charging, over load, over temp

Indicators

LCD+LED Display

Over-Load Protection

1min Load >110%,20s Load >120%,0s Load >150%

General
Specifications


Operating Temperature
Range

0ºC to 40ºC

Storage Temperature

-15ºC~55ºC

Cooling

Forced air,variable speed fan

Dimension(L*W*H)

276.7*245*97mm

Net Weight(kg)

2.6kg

2.7kg

*****************************************************************************************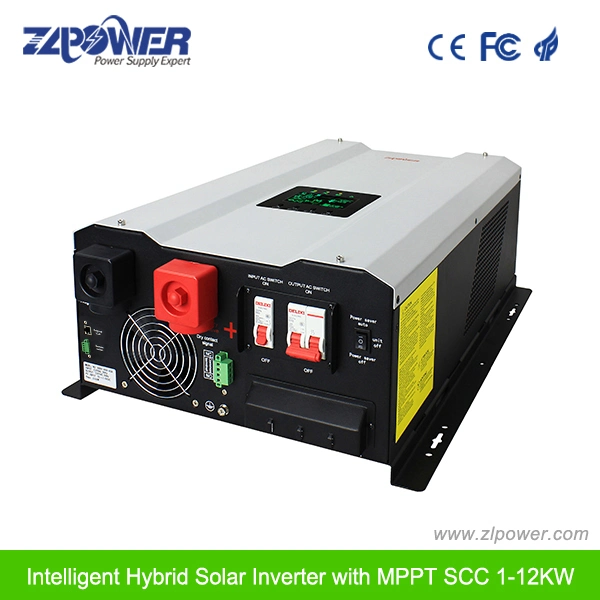 GS Series 1-12KW Off Grid Low frequency Pure sine wave inverter with MPPT controller

1. Low frequency based on Transformer
2. Compatible to mains voltage or generator power.
3. Built-in 40A/60A optional MPPT solar charger controller.
4. Selectable Solar or AC priority
5. Adjustable charge current, solar and AC charger
6. Optional remote LCD display
7. 80-270vac Wide Input AC Voltage
8. Generator restart signal. (Dry contact).
9. LCD display can show Solar generation



Specification
Model

GS1000W

GS1500W

GS2000W

GS3000W

AC
Input

Nominal Power

1000W

1500W

2000W

3000W

Input Voltage Waveform

Nominal input Voltage

Nominal input Voltage

120/230VAC

Low Line Disconnect

85Vac±4%(Normal) or 80Vac±4% (Wide) for 120V
184Vac±4%(Normal) or 135Vac±4%(Wide) for 230V

High Line Disconnect

136Vac±4%(Normal) or 140Vac±4%(Wide) for 120V
263Vac±4%(Normal) or 263Vac±4%(Wide) for 230V

Max AC input Voltage

120V for Max150Vac, 230V for Max270Vac

Frequency

50Hz:41-54Hz, 60Hz:51-64Hz

AC
output

Output Voltage Waveform

Sine wave

Power Factor

0.9~1.0

Nominal Output Voltage (V)

LV:120Vac ±10%rms, HV:230Vac ±10%rms

Nominal Output
Frequency (Hz)

50Hz ± 0.3Hz, 50Hz ± 0.3Hz

Solar
charger

Rated Charge Current

40A

60A

PV Input Voltage range

15VDC-40VDC for 12VDC, 30VDC-55VDC for 24VDC, 60-110VDC for 48V

Max.PV open circuit
array voltage

12V for 40Vdc, 24V for 55Vdc, 48V for 110Vdc

Charger mode

MPPT

PV Low Voltage
Re-connect

PV≥Bat.V+3V

PV Low Voltage
Disconnect

PV<=Bat.V

Efficiency

≥97%

AC
Charger

Nominal Charger
Current

35A/50A/70A/90A(According to the inverter model)

5 stages adjustable charging current

Over charge Protection

Bat.V≥15.5VDC for 12V battery, Bat.V≥31.0VDC for 24V battery ,Bat.V≥62.0VDC for 48V battery beeps 0.5s every 1s & fault after 60s

Efficiency

Efficiency(Battery Mode)

≥87%

Efficiency (Line Mode)

>98%

Battery
Voltage

Nominal DC input Voltage

12/24/48VDC

Low Battery Alarm

10.5VDC±0.3VDC for 12VDC

21VDC±0.6VDC for 24VDC

42VDC±1.2VDC for 48VDC

High DC input
Alarm & Fault

16VDC±0.3VDC for 12VDC

32VDC±0.6VDC for 24VDC

64VDC±1.2VDC for 48VDC

Transfer
Time

20ms(max)

System
Parameter

Over-Load Protection

110%the output,load>150%, beeps 0.5s every 1s, and Fault after 20s

Output Short Circuit
Protection

Current limit (Fault after 10s)

Surge Rating(10s)

1:3(VA)

Power Saver

Load≤25W(Enabled on "P/S auto"Setting of Remote control)

Protections

Low battery, over charging, over load, over temp

General
Specifications


Operating Temperature
Range

0ºC~40ºC

Storage Temperature

-15ºC~60ºC

Operation humidity

5% to 95%(non-condensing)

Audible Noise

60dB max

cooling

Forced air,variable speed fan

Dimension(L*W*H)

480*336*190mm

Net Weight(kg)

19.5

21.5

23.5

28
Model

GS4000W

GS5000W

GS6000W

AC
Input

Nominal Power

4000W

5000W

6000W

Input Voltage Waveform

Nominal input Voltage

Nominal input Voltage

120/230VAC

Low Line Disconnect

85Vac±4%(Normal) or 80Vac±4% (Wide) for 120V
184Vac±4%(Normal) or 135Vac±4%(Wide) for 230V

High Line Disconnect

136Vac±4%(Normal) or 140Vac±4%(Wide) for 120V
263Vac±4%(Normal) or 263Vac±4%(Wide) for 230V

Max AC input Voltage

120V for Max150Vac, 230V for Max270Vac

Frequency

50Hz:41-54Hz, 60Hz:51-64Hz

AC
output

Output Voltage Waveform

Sine wave

Power Factor

0.9~1.0

Nominal Output Voltage (V)

LV:120Vac ±10%rms, HV:230Vac ±10%rms

Nominal Output
Frequency (Hz)

50Hz ± 0.3Hz, 60Hz ± 0.3Hz

Solar
charger

Rated Charge Current

60A

PV Input Voltage range

30VDC-55VDC for 24VDC, 60-110VDC for 48V

Max.PV open circuit
array voltage

24V for 55Vdc, 48V for 110Vdc

Charger mode

MPPT

PV Low Voltage
Re-connect

PV≥Bat.V+3V

PV Low Voltage
Disconnect

PV<=Bat.V

Efficiency

≥97%

AC
Charger

Nominal Charger
Current

35A/50A/70A(According to the inverter model)

5 stages adjustable charging current

Over charge Protection

Bat.V≥31.0VDC for 24V battery, Bat.V≥62.0VDC for 48V
battery beeps 0.5s every 1s & fault after 60s

Efficiency

Efficiency(Battery Mode)

≥87%

Efficiency (Line Mode)

>98%

Battery
Voltage

Nominal DC input Voltage

24/48VDC

Low Battery Alarm

21VDC±0.6VDC for 24VDC

42VDC±1.2VDC for 48VDC

High DC input
Alarm & Fault

32VDC±0.6VDC for 24VDC

64VDC±1.2VDC for 48VDC

Transfer Time

20ms(max)

System
Parameter

Over-Load Protection

110%the output,load>150%,beeps 0.5s every 1s,and Fault after 20s

Output Short Circuit
Protection

Current limit (Fault after 10s)

Surge Rating(10s)

1:3(VA)

Power Saver

Load≤25W(Enabled on "P/S auto"Setting of Remote control)

Protections

Low battery, over charging, over load, over temp

General
Specifications


Operating Temperature Range

0ºC~40ºC

Storage Temperature

-15ºC~60ºC

Operation humidity

5% to 95%(non-condensing)

Audible Noise

60dB max

cooling

Forced air, variable speed fan

Dimension(L*W*H)

530*400*190mm

Net Weight(kg)

30.8

36

37
Model

GS8000W

GS10KW

GS12KW

AC
Input

Nominal Power

8000W

10KW

12KW

Input Voltage Waveform

Nominal input Voltage

Nominal input Voltage

230Vac ±10%rms

Low Line Disconnect

184Vac±4%(Normal) or 135Vac±4%(Wide)

High Line Disconnect

263Vac±4%(Normal) or 263Vac±4%(Wide)

Max AC input Voltage

Max 270Vac

Frequency

50Hz:41-54Hz, 60Hz:51-64Hz

AC
output

Output Voltage Waveform

Sine wave

Power Factor

0.9~1.0

Nominal Output Voltage (V)

230Vac ±10%rms

Nominal Output
Frequency (Hz)

50Hz ± 0.3Hz, 60Hz ± 0.3Hz

Solar
charger

Rated Charge Current

60A

PV Input Voltage range

60-110VDC

Max.PV open circuit
array voltage

110VDC

Charger mode

MPPT

PV Low Voltage
Re-connect

PV≥Bat.V+3V

PV Low Voltage
Disconnect

PV<=Bat.V

Efficiency

≥97%

AC
Charger

Nominal Charger
Current

35A/50A/70A(According to the inverter model)

5 stages adjustable charging current

Over charge Protection

Bat.V≥62.0VDC battery beeps 0.5s every 1s & fault after 60s

Efficiency

Efficiency(Battery Mode)

≥87%

Efficiency (Line Mode)

>98%

Battery
Voltage

Nominal DC input Voltage

48VDC

Low Battery Alarm

42VDC±1.2VDC

High DC input
Alarm & Fault

64VDC±1.2VDC

Transfer
Time

20ms(max)

System
Parameter

Over-Load Protection

110%the output,load>150%,beeps 0.5s every 1s,and Fault after 20s

Output Short Circuit
Protection

Current limit (Fault after 10s)

Surge Rating(10s)

1:3(VA)

Power Saver

Load≤25W(Enabled on "P/S auto"Setting of Remote control)

Protections

Low battery, over charging, over load, over temp

General
Specifications


Operating Temperature
Range

0ºC to 40ºC

Storage Temperature

-15ºC~60ºC

Operation humidity

5% to 95%(non-condensing)

Audible Noise

60dB max

cooling

Forced air,variable speed fan

Dimension(L*W*H)

627*416*204mm

Net Weight(kg)

52.5

58.5

66.5
*****************************************************************************************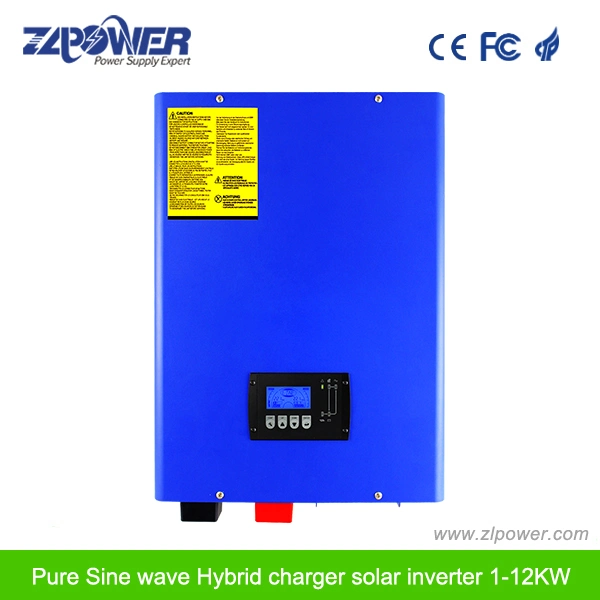 GW Plus Series 1-12KW
Off Grid
Low
frequency
Pure
sine wave inverter with
MPPT
controller
1. Low frequency based on Transformer
2. Compatible to mains voltage or generator power.
3.

Built-in 40A/60A optional MPPT solar charger controller.


4. Selectable Solar or AC priority
5. Adjustable charge current, solar and AC charger
6. Optional remote LCD display
7. 80-270vac Wide Input AC Voltage
8.

Generator restart signal. (Dry contact).
Specification
MODEL
(GW Series)
HV/LV Model
HV Model(1-12KW) LV Model(1-6KW)

Line Mode Specifications:

Input Voltage

Input Voltage Waveform

Sinusoidal (utility or generator)

Nominal Input Voltage

LV 120Vac

HV 230Vac

Low Line Disconnect

Normal:85Vac±4% Wide:80Vac±4%

Normal:184Vac±4% Wide:135Vac±4%

Low Line Re-connect

Normal:95Vac±4% Wide:85Vac±4%

Normal:194Vac±4% Wide:145Vac±4%

High Line Disconnect

Normal:136Vac±4% Wide:140Vac±4%

Normal:263Vac±4% Wide:263Vac±4%

High Line Re-connect

Normal:131Vac±4% Wide:135Vac±4%

Normal:253Vac±4% Wide:253Vac±4%

Max AC Input Voltage

150Vrms

270Vrms

Input Frequency

Nominal Input Frequency

50Hz/ 60Hz (Auto detection)

Low Line Frequency Re-connect

51+0.3Hz for 60Hz;
41+0.3Hz for 50Hz;

Low Line Frequency Disconnect

50+0.3Hz for 60Hz;
40+0.3Hz for 50Hz;

High Line Frequency Re-connect

64+0.3Hz for 60Hz;
54+0.3Hz for 50Hz;

High Line Frequency Disconnect

65+0.3Hz for 60Hz;
55+0.3Hz for 50Hz;

main functions

Output Voltage Waveform

As same as Input Waveform

Over-Load Protection (SMPS load)

Air switch

Output Short Circuit Protection

Air switch

Max Bypass Overload Current

30A/40A/50A

Battery Invert Mode Specifications:

output

Output Voltage Waveform

Sine wave

Rated Output Power (KW)

LV:1~6KW

HV: 1~12KW

Power Factor

0.9~1.0

Nominal Output Voltage (V)

LV:120Vac ±10%rms

HV:230Vac ±10%rms

Nominal Output Frequency (Hz)

60Hz ± 0.3Hz
50Hz ± 0.3Hz

DC Voltage

Nominal DC Input Voltage

12VDC/24VDC/48VDC

DC Voltage range

10-15.5Vdc for 12VDC
20-31.0Vdc for 24VDC
40-62.0Vdc for 48VDC

Low Battery Alarm

10.5Vdc ± 0.3Vdc for 12V battery
21.0Vdc ± 0.6Vdc for 24V battery
42.0Vdc ± 1.2Vdc for 48V battery

Low DC input Shut-down

10.0Vdc ± 0.3Vdc for 12V battery
20.0vdc± 0.6Vdc for 24V battery
40.0Vdc ± 1.2Vdc for 48V battery

High DC input Alarm & Fault

16Vdc ± 0.3Vdc for 12V battery
32Vdc ± 0.6Vdc for 24V battery
64Vdc ± 1.2Vdc for 48V battery

High DC input Recovery

15.5Vdc ± 0.3Vdc for 12V battery
31.0Vdc ± 0.6Vdc for 24V battery
62.0Vdc ± 1.2Vdc for 48V battery

AC Charger

Nominal Charge Current

20A/35A/50A/70A/90A(5 stages adjustable charging current)

Charge Current Regulation

± 5Adc

Over Charge Protection

Bat.V≥15.5VDC for 12V battery
Bat.V≥31.0VDC for 24V battery
Bat.V≥62.0VDC for 48V battery
beeps 0.5s every 1s & fault after 60s

Algorithm

Three stage: Boost CC (constant current stage) → Boost CV (constant voltage stage) → Float (constant voltage stage)

Solar charger

Rated Charge Current

40A
60A

Rated charge battery Voltage type

12V/24V/48V

12V/24V

Max.PV open circuit array voltage

12V for 40Vdc
24V for 55Vdc
48V for 110Vdc

Charger mode

MPPT

PV Low Voltage Re-connect

PV≥Bat.V=3V

PV Low Voltage Disconnect

PV<=Bat.V

Efficiency

≥97%

Efficiency

Efficiency (Battery Mode)

≥85%

Efficiency (Line Mode)

>98%

Transfer Time

Ac to Dc

20ms (Max)

Dc to Ac

15ms (Max)

System parameter

Over-Load Protection

110% <load<150%, beeps 0.5s every 1s, and Fault after 60s off the output, Load>150%, beeps 0.5s every 1s, and Fault after 20s.

Output Short Circuit Protection

Current limit (Fault after 10s)

Surge rating (10s)

1:3 (VA)

Power saver

Load <=25W (Enabled on "P/S auto" setting of Remote control)

Protections

Low battery, over charging, over load , over temp.

Indicators

LED+LCD Display

General Specifications

Operating Temperature Range

0°C to 40°C

Storage temperature

-15ºC ~60ºC

Operation humidity

5% to 95%(non-condensing)

Audible Noise

60dB max

Cooling

Forced air, variable speed fan

Dimension(L*W*H)

3KW

5KW

6KW

8KW

10KW

12KW

Net weight(Kg)

*****************************************************************************************



Off Grid Pure Sine Wave Inverter Charger, Without Controller Inside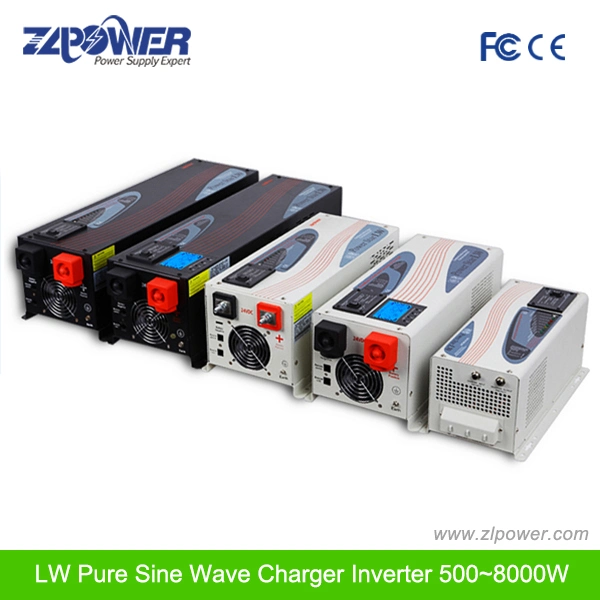 LW Series 500-6000W Off Grid Low frequency Pure sine wave inverter charger

1. Low frequency based on Transformer
2. Compatible to mains voltage or generator power.
3. Selectable Solar or AC priority
4. Adjustable charge current, solar and AC charger
5. Optional remote LCD display
6. 80-270vac Wide Input AC Voltage
7. Optional with AVR function with Stable Power



Specification
AC Input

Single phase & Pure Sine Wave

110/120/130VAC or 220/230/240VAC

95-126VAC or 194-253VAC±4%

50Hz:41-54Hz 60Hz:51-64Hz

AC Output

Single phase & Pure Sine Wave (bypass mode sync to input)

110/120/130VAC or 220/230/240VAC±10%rms (bypass mode sync to input)

50Hz±0.3Hz 60Hz±0.3Hz (bypass mode sync to input)

DC Input

10.5±0.3vdc or 21±0.6vdc or 42±1.2vdc

10±0.3vdc or 20±0.6vdc or 40±1.2vdc

High DC input Alarm & Fault

16±0.3vdc or 32±0.6vdc or 64±1.2vdc

15.5±0.3vdc or 31±0.6vdc or 62±1.2vdc

20A/35A/ 50A/75A/90A(According to the Inverter model)

System parameter

Load <=25W (Enabled on "P/S auto" setting of Remote control)

Sounding when the heat sink's tem is over 100ºC and shutdown after 30 seconds.

Load>150%, beeps 0.5s every 1s, and Fault after 20s.

low battery,over charging,over temp,over load

RS-232/USB/SNMP(custom-made)

0-40ºC,0-90%RH(non-condensing)
*****************************************************************************************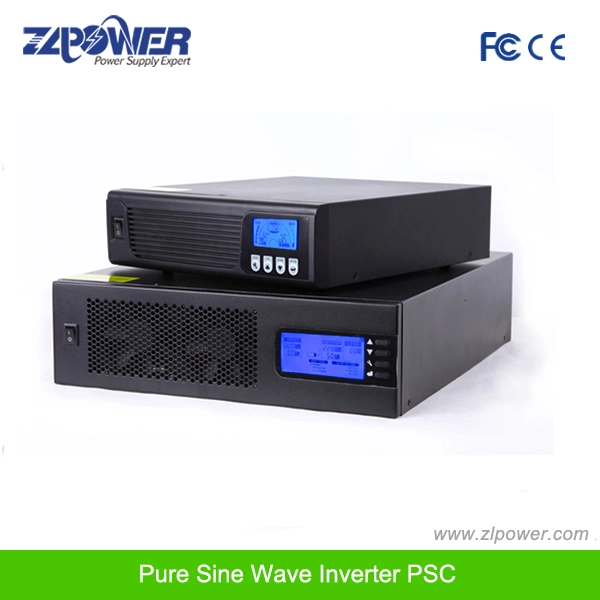 PSC Series 3KVA 6KVA
Off Grid
high
frequency
pure
sine wave inverter charger
1. high frequency based on IGBT technology,

low comsumption
2. Compatible to mains voltage or generator power.
3. Optional remote LCD display
4. 2 times peak power
5.

20A supper charger
Specification
MODEL

PSC 3KVA-24

PSC 6KVA-48

PSC 6KVA-96

Output Power (Continuous)

2400W

4200W/4800W

4200W/4800W

PF

0.8

0.7/0.8

0.7/0.8

Surge Rating

4800W

8400W

8400W

Nominal Input Voltage

24vdc

48vdc

96vdc

Output Voltage

220/230/240Vac ±10% rms

Nominal Efficiency

>90% (@Normal DC Input; >60% R load)

Output Frequency

50Hz / 60Hz ± 1Hz (follow first connect to grid)

Over-Load Protection

fault after 5s@≥150% load,<=200% load




fault after 10s@110%~150% load

Nominal Charge Current

10A

@Vi/p<170Vac




20A

@Vi/p=230Vac




10A

@Vi/p>280Vac

20A(95-175v, gen/wide only),




35A(175-275v)@35A setting




20A(175v-275v)@20A setting)

10A(95-175v, gen/wide only),




20A(175-275v)@20A setting




10A(175v-275v)@10A setting)

Output waveform

Pure Sine Wave

Charge Voltage

27vdc

54vdc

108vdc

Over Charge Protection

Bat. V ≥30Vdc, Fault, Buzzer alarm

Bat. V≥60Vdc, Fault, Buzzer alarm

Bat. V ≥120Vdc,Fault, Buzzer alarm

Protection

Overload, Short circuits, Over/under input voltage, Over temperature

Operating TemperatureRange

0°C to 45 °C

Dimensions (LxWxH)

330 x 269 x 76.5 mm

407 x 350 x

110

mm

Weight

4.9Kg

9.5Kg

9.5Kg
#####################################################################################
More ZLPOWER Products, pls kindly view our website: zlpower.en.made-in-china.com
Welcome OEM, ODM and Special design
Email, Skype, Whatsapp and QQ: Online For 24 Hours
Sunny

#####################################################################################