Excellent overload capabilities

Optimal battery protection

Automatic load detection

Parallel connectable

Best reliability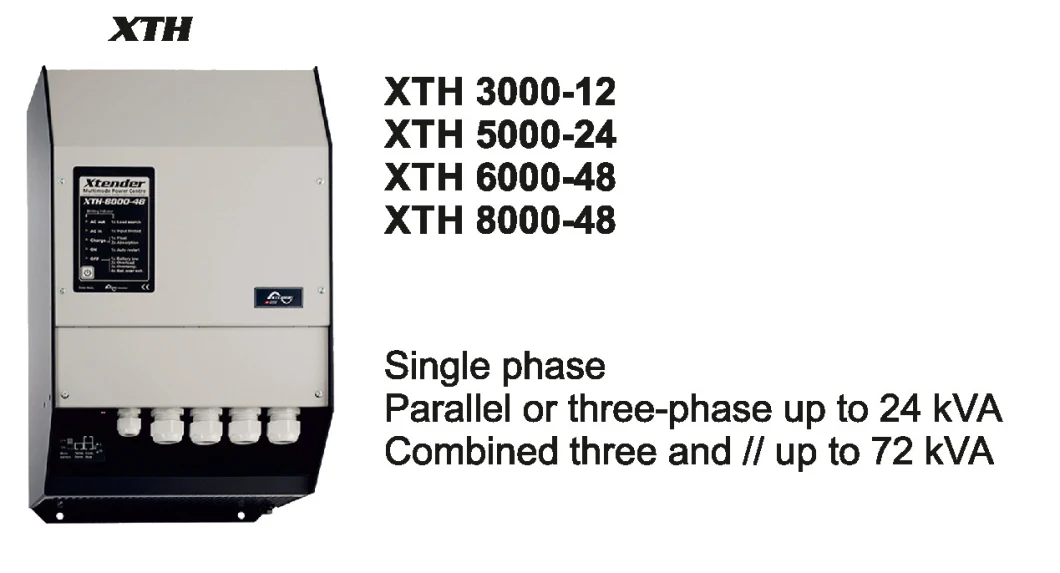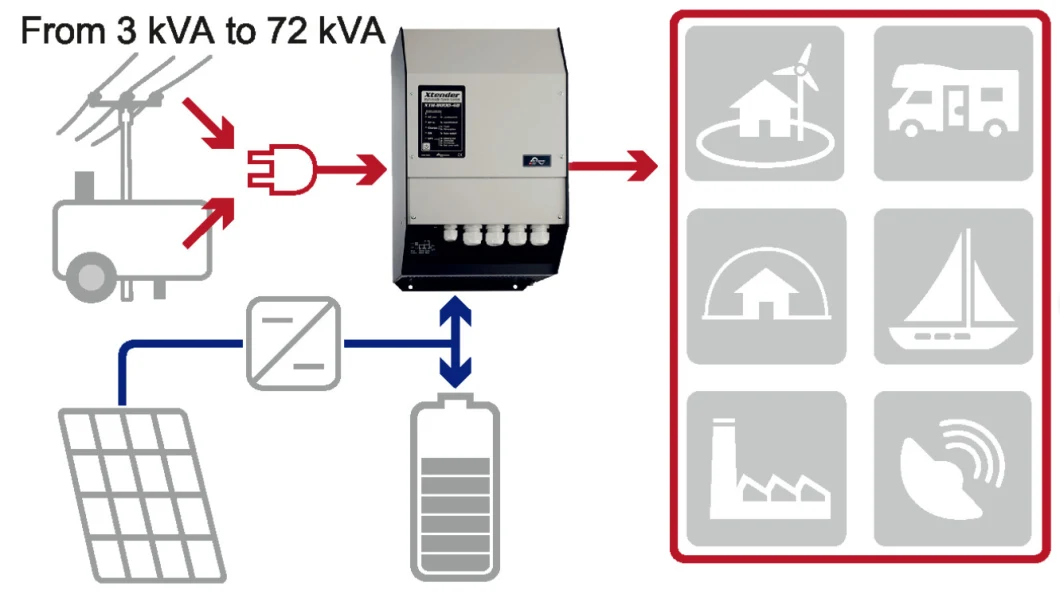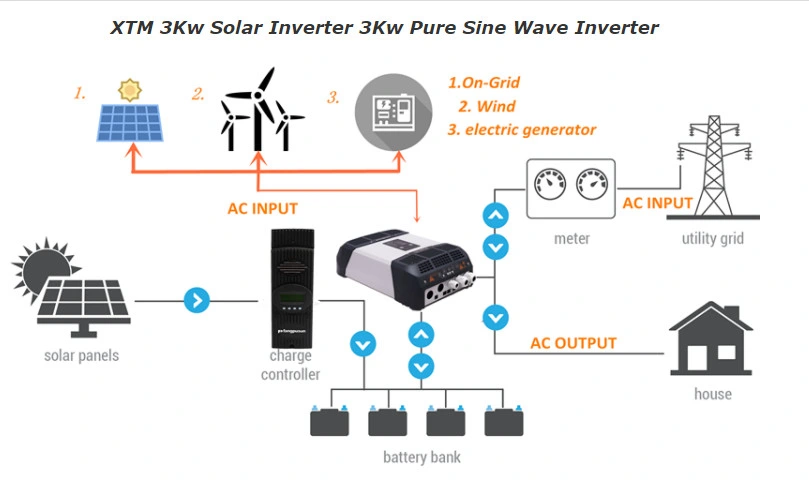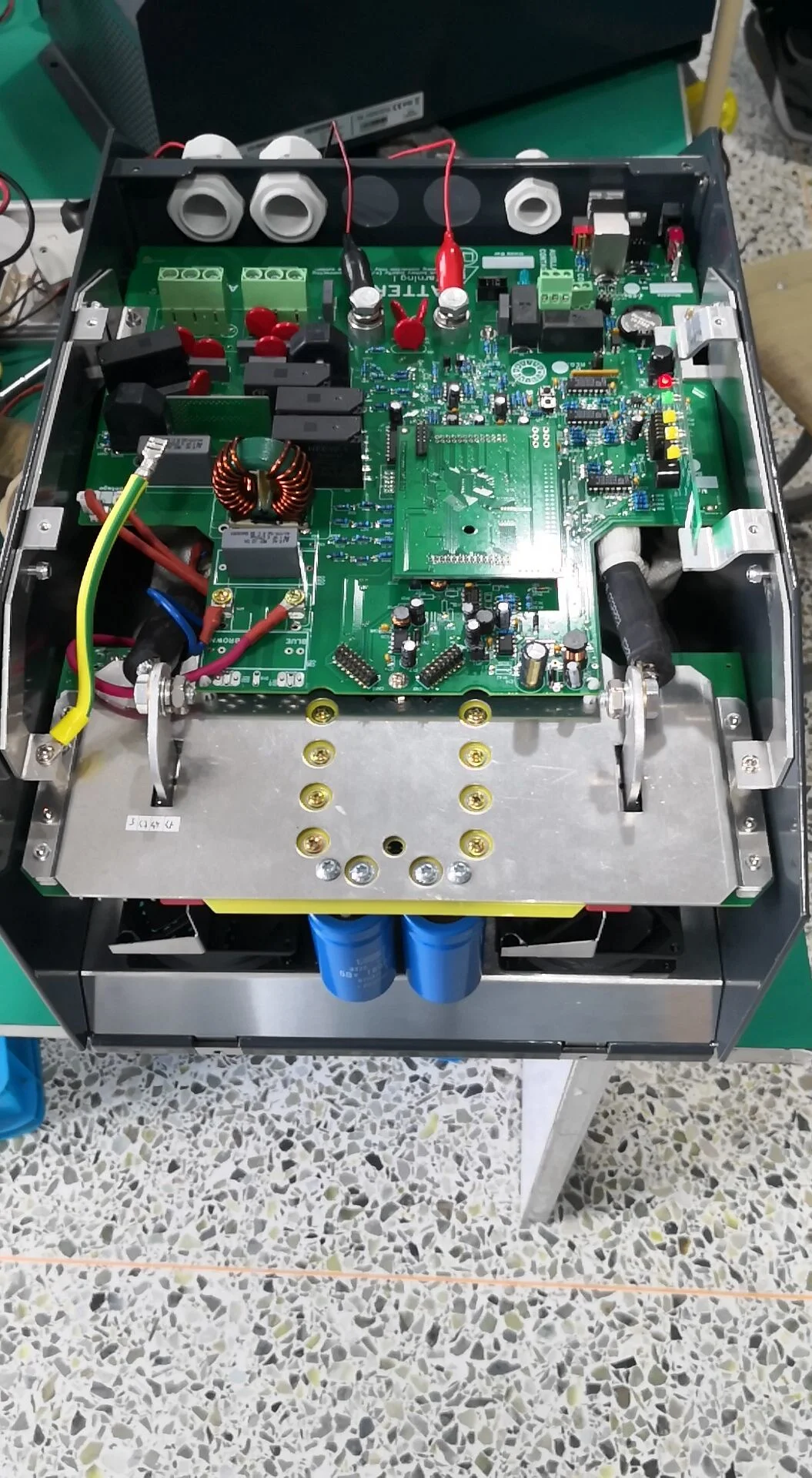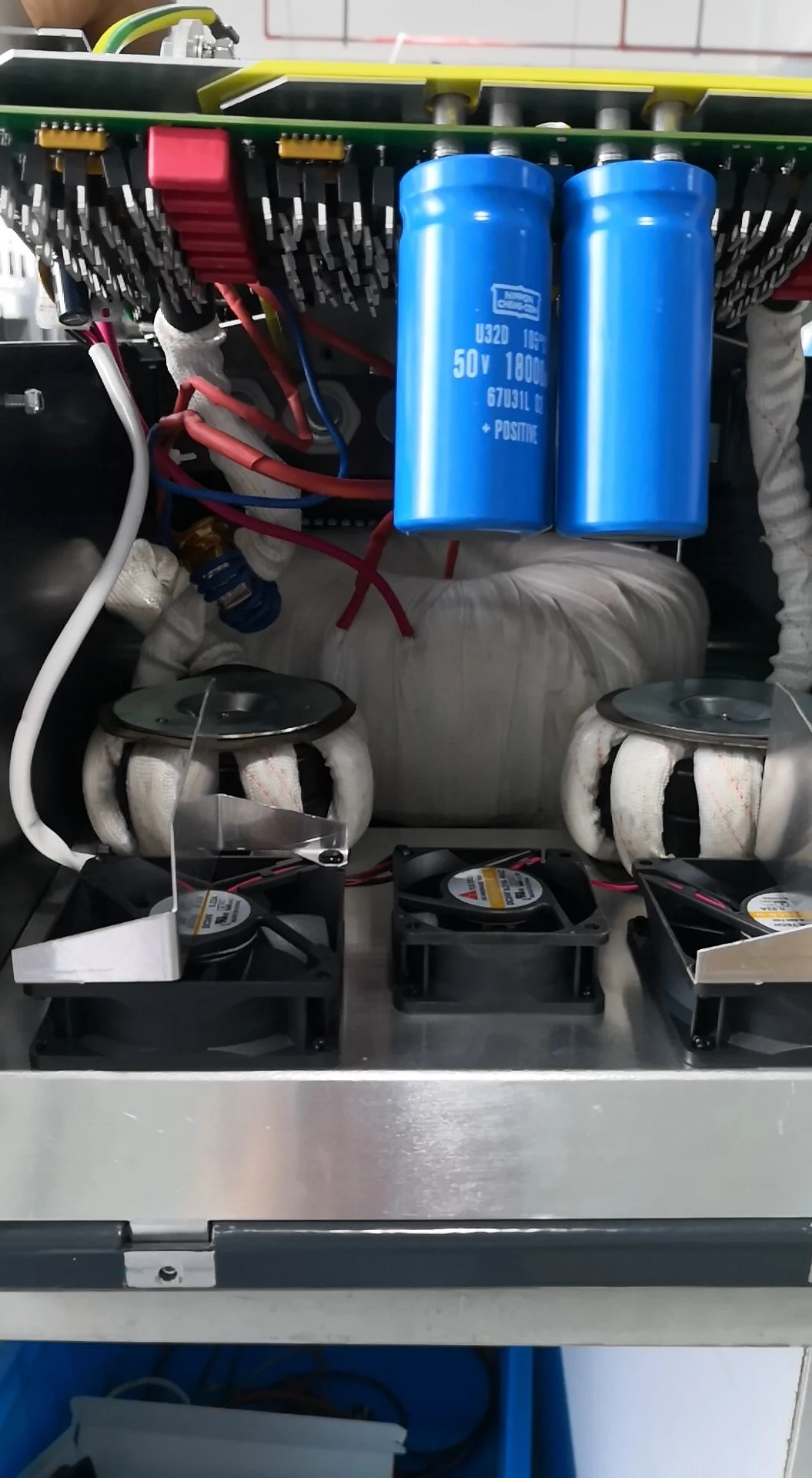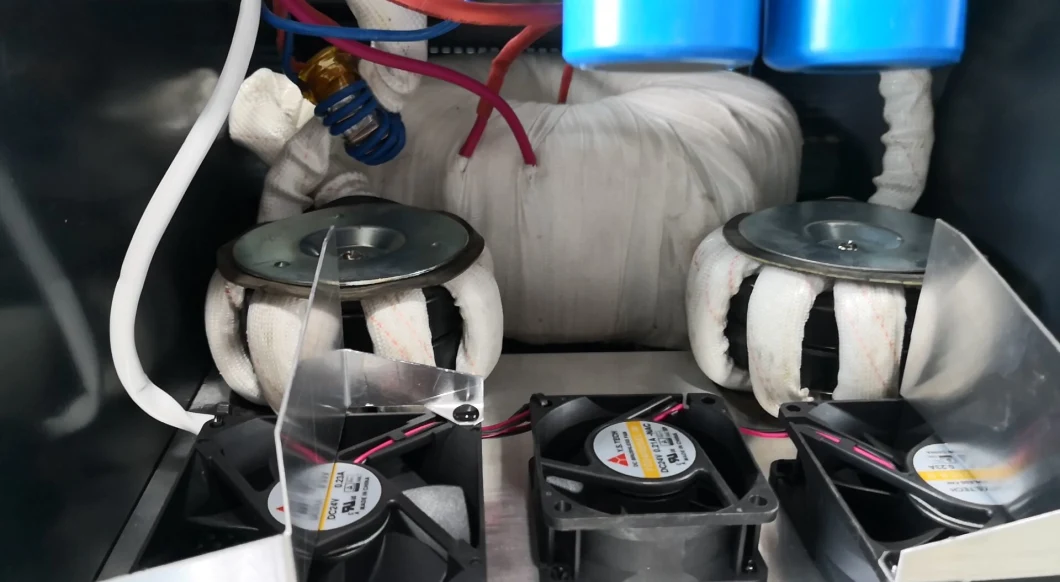 Quick Overview
The 12V-XTM inverter/charger has a continuous power rating of 2kVA (XTM1500: 1.5kVA) up to an ambient temperature of 40°C. In addition, it can deliver 4.8kVA (XTM1500: 3.5kVA) for up to 5 seconds!
Thanks to this very high surge power capacity, it can supply without worries loads with a high start-up current
The battery charge current can be adjusted between 0 and 100Adc (XTM1500: 70A)
The 24V-XTM inverter/charger has a continuous power rating of 3kVA (XTM2000: 2kVA),
a 30 minute power rating of 3.5kVA (XTM2000: 2.4kVA),
and can deliver 9kVA (XTM2000: 6kVA) for up to 5 seconds
The battery charge current can be adjusted between 0 and 90Adc (XTM2000: 100A)
The 48V-XTM inverter/charger has a continuous power rating of 3.5kVA (XTM2600: 2kVA)
a 30 minute power rating of 4kVA (XTM2600: 2.6kVA)
and can deliver 10.5kVA (XTM2600: 6.5kVA) for up to 5 seconds
The battery charge current can be adjusted between 0 and 50Adc (XTM2600: 30A)
Options
RCC-02, RCC-03 remote control and programming center
battery status processor BSP
communication module Xcom-232i, equipped with a serial port RS-232
communication sets by internet with Xcom-LAN / Xcom-GSM
communication module Xcom-SMS
multi-protocol communication module Xcom-CAN
and more..


Model
XTM 1500-12
XTM 2000-12
XTM 2400-24
XTM 3500-24
XTM 2600-48
XTM 4000-48
Characterisation of the operating performance
Nominal battery voltage
12V
12V
24V
24V
48V
48V
Input voltage range
9.5-17VDC
9.5-17VDC
19-34VDC
19-34VDC
36-68VDC
36-68VDC
Continuous Power
1500VA
2000VA
2000VA
3000VA
2000VA
3500VA
Power 30 min.
1500VA
2000VA
2400VA
3500VA
2600VA
4000VA
Power 5 Sec.
3400VA
4800VA
6000VA
9000VA
6500VA
10500VA
Max.efficiency
93%
93%
94%
94%
96%
96%
Own consumption stand by


1.4W


1.4W


1.6W


1.6W


2.0W


2.1W
Own consumption stand by


8.0W


10W


9W


12W


10W


14W
Acoustic level without ventilation


40 dB
Acoustic level with ventilation
45 dB
Maximum load
Up to short-circuit
Maximum asymmetric load
Up to Pcont.
Load detection (stand-by)


2 to 25 W
Cos φ
0.1-1
Output voltage
Pure sine wave 230Vac (±2%) / 120Vac (1)
Output frequency
45Hz-60Hz(1) ± 0.05% (crystal controlled)
Harmonic distortion
<2%
Overload and short-circuit protection


Automatic disconnection with 3 time restart attempt
Overheat protection
Warning before shut-off - with automatic restart
Battery charger
Charge Characteristic
6 steps : Bulk-Absorption-Floating-Equalization-reduced floating-periodic absorption Number of steps,thresholds,end current and times completely adjustable with the RCC-02/03
Temperature compensation
With BTS-01 or BSP 500/1200
Maximum charging current
70A
100A
55A
90A
30A
50A
Input voltage range
150 to 265Vac / 50 to 140Vac (1)
Input frequency
45 to 65Hz
Input current max . (transfer relay) / Output current max .
50Aac / 56Aac
Transfer time
< 15ms
Protection index
IP 20
Operating temperature range
-20 to 55ºC
Ventilation
Forced from 55ºC
Warranty
2 Years
Q1. What's Certificates you have?
A: CE, ROHS, ISO9001, SGS certificates
Q2. How many years warranty?
A: All of products warranty 2 years. If have any quality problem, could return to us exchange new one or repair it free. Use our company DHL account, free freight.
Q3. What's the payment term?
A: 100% T/T (large order, accept 30% T/T prepay 70% balance before shipping), Western Union, Paypal.
Q4. How's the delivery time?
A: Usually 2 hours after receive full payment. OEM order need 10-15 days.
Q6. Why choose Fangpusun pure sine wave inverter?
A: . Fangpusun inverter, its wave better than electric supply, used for military, car, boat, solar home system. Does not affect radio transmission.
. Through testing, Fangpusun inverter is full power. Many other supplier only 70% or 80% power.
Q7. What's Government tender you get?
A: FP-S-300W and FP-S-600 inverter get Indonesia tender, Solarix MPPT2010 controller get Bulgaria tender, PR2020 solar controller get Ecuador tender, PR3030 solar charge controller get Mexico tender and so on.
Q8. Would you supply OEM/ ODM service?
A: Yes! Our company supply OEM service.
. MOQ 200Pcs per model, blank box packing, standard export carton.
. MOQ 500Pcs per model, customer's design color box packing, standard export carton.
Q9. Why your unit price is higher than other supplier?
A: Alto and Audi are cars, also four wheels cars. Why Audi price higher than Alto? The same token, our Fangpusun power inverter unit price higher than other supplier, so products quality higher than other supplier. We believe in the right balance between quality and price. We offer competitively priced systems while maintaining our high standard of quality.
Q10. Engineering expertise
A: In Fangpusun we know that every project is different. Our solar experts with 10 year experience, will conduct a solar site analysis using the latest tools in the industry to ensure the maximum performance of your solar system. Give you the best suggestion, recommend suitable model for you.
Q11. What about your sale service?
A: Developing long-lasting relations with our customers is of utmost importance to us. We are committed to providing you with excellent all-round services, before, during and after the installation of your renewable energy syste.