Pure true sine wave inverter 1000W 2KW 2500w 2000watt 3000W power star w7 inversor
Solar inverter with 70AMP built in AC charger.
UPS function
Voltage 110/120/230 and 220/230/240VAC 50Hz or 60Hz adjustable via LCD
Capacity available from 500W, 750W, 1000W, 1500W, 2000W, 3000W, 4000W, 5000W, 6000W, 7000W and 8000W
Peak Power: 3 times as rated Power
Optional remote control, Bypass, and Auto-reconnection
This inverter is widely applied in wind Generator, Solar battery pack set, house, vehicle, ship, navigation and places where lack of main power, mobile electricity work also telecommunications device, launch Station, Emengency EPS and so on.
Application
LW Series Pure Sine Wave Inverter takes low frequency converter Device, with built in Isolation transformer. Zero Voltage(ZV) and soft switch technic, high capability Motorola MCU, digital and dummy combined technics which Complete the voltage increase in one time and SPWM wave modemed Advanced circuit, high efficiency and compact size, small weight And super stability
It has no repellency for the load, which can work well with Inductive load such as fluorescent lamp, electromotor, microwave ovens, Induction cooker, refrigerator, air conditions and transformer.
With protection fonction like, DC input protect When pole wrong, AC input protection against over and low voltage, Output protection against over load, shor circuit Protection, DC input and AC output completely electric insulation.
Installation:
Digital LCD display
Strong copper Transformer
Images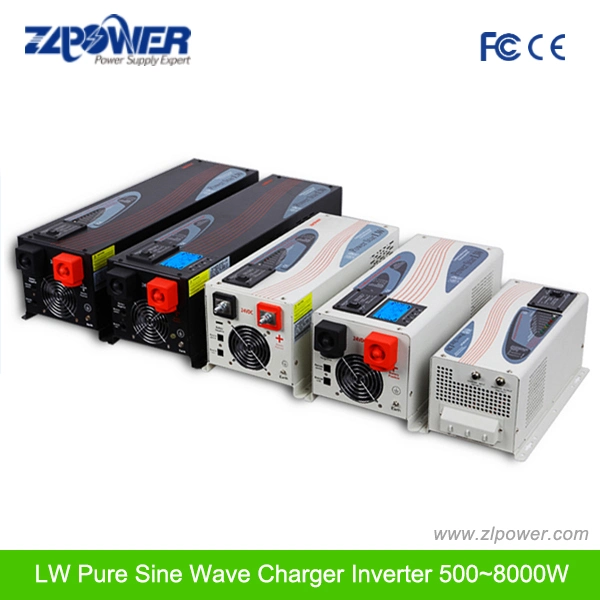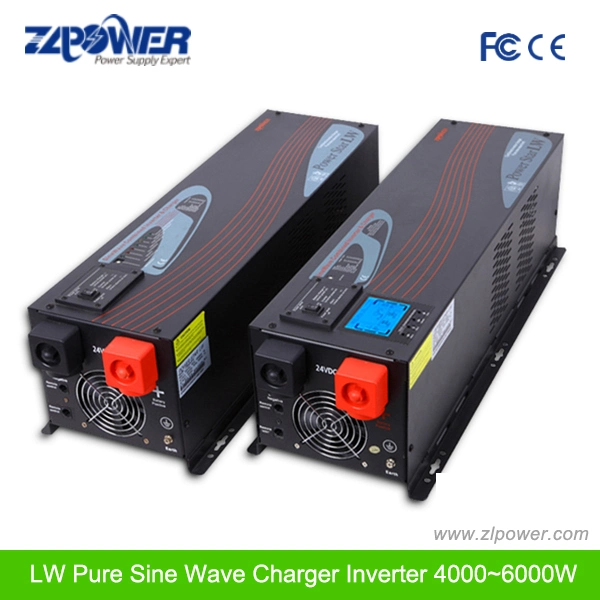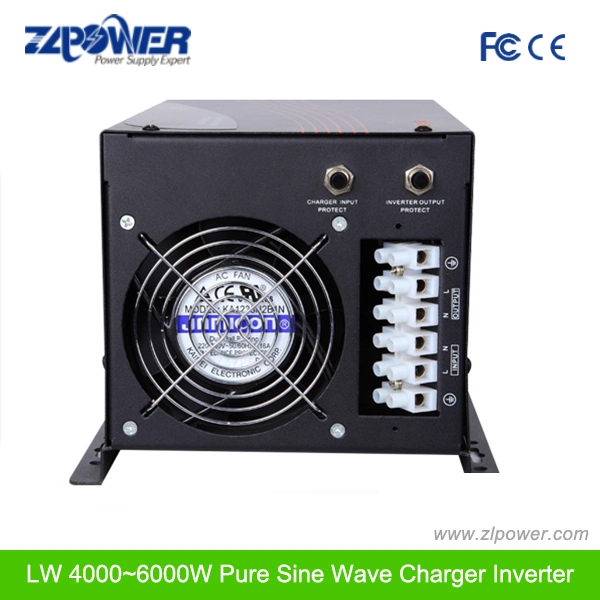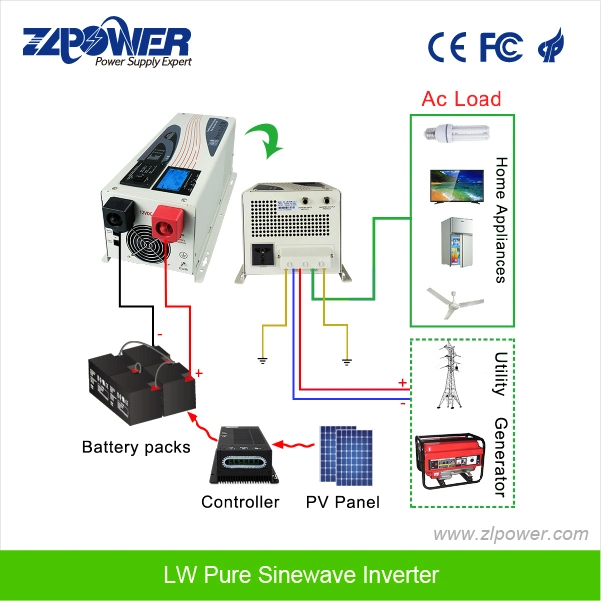 Company profie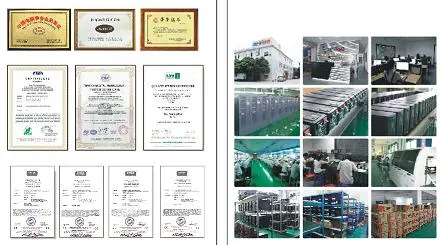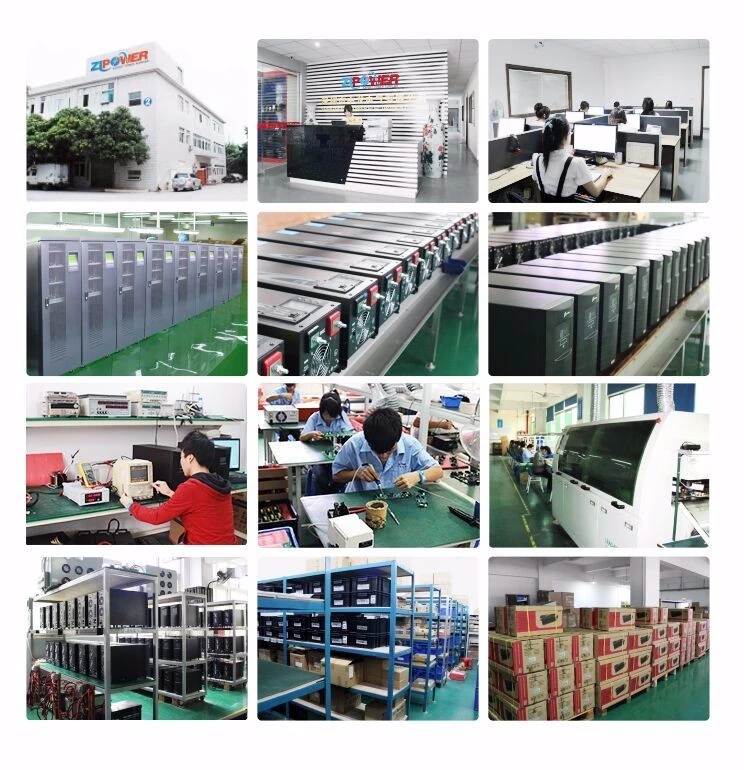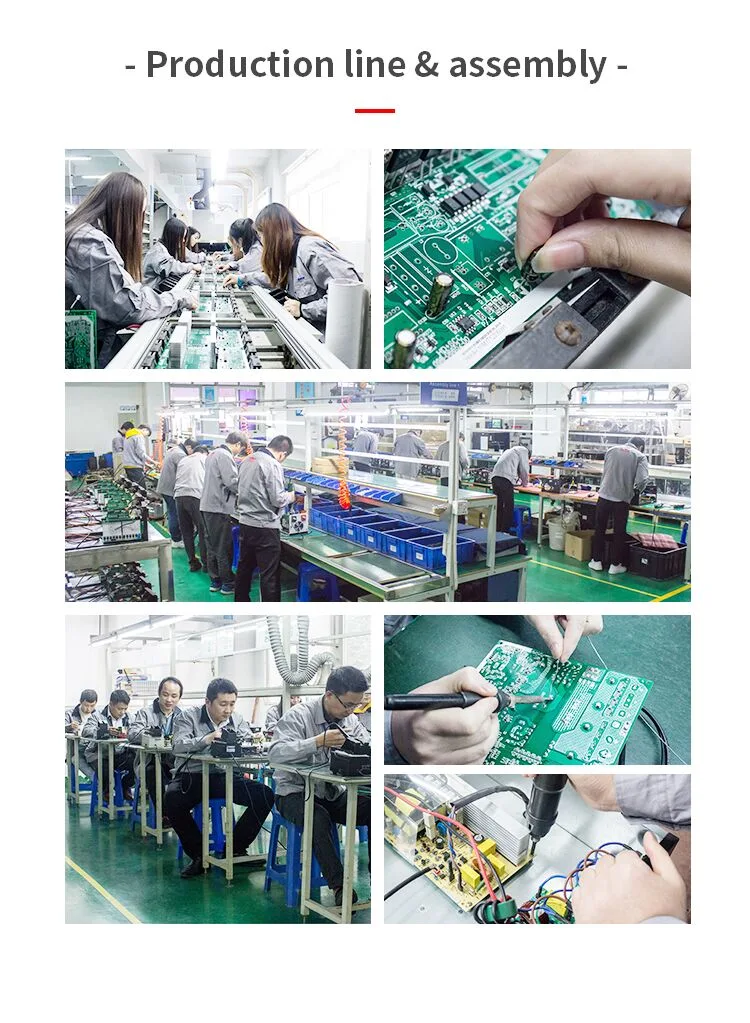 Packing&Shipping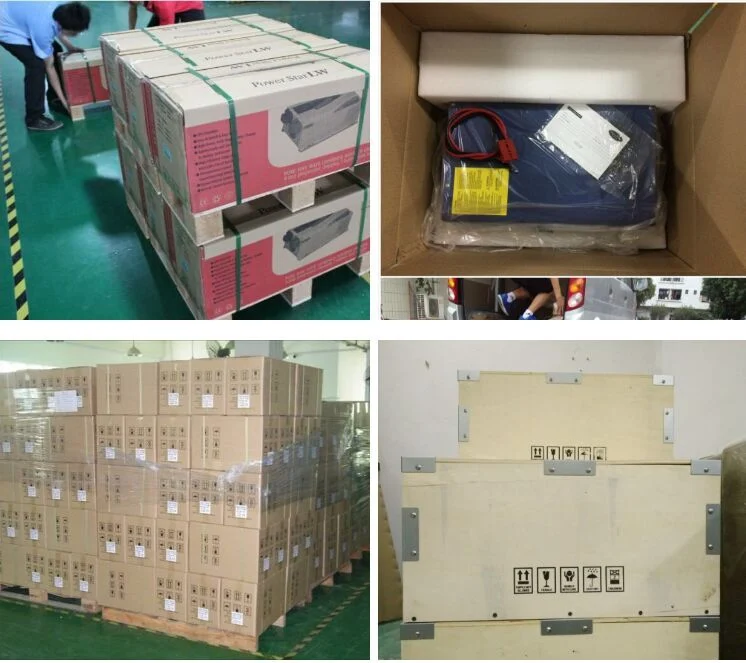 Specification
Model No.
LW1000
LW1500
LW2000
LW3000
LW4000
LW5000
LW6000
LW7000
LW8000
Nominal Power
1000W
1500W
2000W
3000W
4000W
5000W
6000W
7000W
8000W
AC Input
Phase & waveform
Single phase & Pure Sine Wave
Voltage
120VAC/230VAC
220,230,240VAC
Acceptable Voltage
194-243VAC\164-243VAC (wide mode)
Line Low Transfer
85V±4%/184 (154 wide mode±4%)
Line Low Return
95V±4%/194 (164 wide mode±4%)
Line high Transfer
135V±4%/253±4%
Line high Return
127V±4%/243±4%
Frequency
50Hz or 60Hz (auto sensing)
Line Low Transfer
47Hz for 50Hz, 57Hz for 60Hz
Line high Transfer
55Hz for 50Hz, 65Hz for 60Hz
Output
Phase & waveform
Single phase & Pure Sine Wave (bypass mode sync to input)
Voltage
120/220/230/240VAC (bypass mode sync to input)
220,230,240VAC
Voltage Regulation
±10%rms (bypass mode sync to input)
Frequency
50Hz±0.3Hz (bypass mode sync to input)
Peak Power
3 times of rating power
Short Circuit Protection
Yes, shutdown after 10ms
Power Factor
0.9-1.0
DC Input
Battery Voltage
12V/24V
12V/24V/48V
24V/48V
48/72V
Minimum Start Voltage
10V for 12V, 20V for 24V, 40V for 48V
Low Battery Alarm
10.5V for 12V, 21V for 24V, 42V for 48V
Low Battery Transfer
10V for 12V, 20V for 24V, 40V for 48V
High Voltage Alarm
16V for 12V, 32V for 24V, 64V for 48V
Max Charging Current
35A/70A
Over Charge Voltage
15.7V for 12V, 31.4V for 24V, 62.8V for 48V
Transfer Efficiency
Line Mode
>95%
Battery Mode
>88%
power saver
Available when the load is less than 25 Watts
Indicators
7-LED Display
From the right to the left,LED1 line mode (green lighting)\LED2 inverter mode
(green lighting)\LED3 charging mode(yellow lighting)\LED4 Fully charged
(green lighting)\LED5 over heat shutdown(red lighting)\LED6 Overloaded
shutdown(red lighting)\LED7 Saving Mode(green lighting)
3-LED Display
Charging Mode(green lighting)\inverter mode(green lighting)\ Alarm(red lighting)
Switch selector
Saving Mode is on/off when push the switch forwards/backwards, keeping it horisontal is
turning the inverter off.
Audible Alarm
Sounding when the heatsink's tem is over 105C and shutdown after 30 seconds.
Protections
low battery\over charging\over temp\over load
Communications
RS-232/USB(custom-made)
Environmental
Operating Environment
0-40C,0-90%RH(non-condensing)
Audible Noise
<60dB
Physical
Net Weight(KG)
18
20
20
26
48
48
48
55
60
Dimension, L X W X H(mm)
446*218*179
605*218*179