Solar inverter 5000W DC24V to AC 220V Modified Sine Wave Inverter with Charger 20A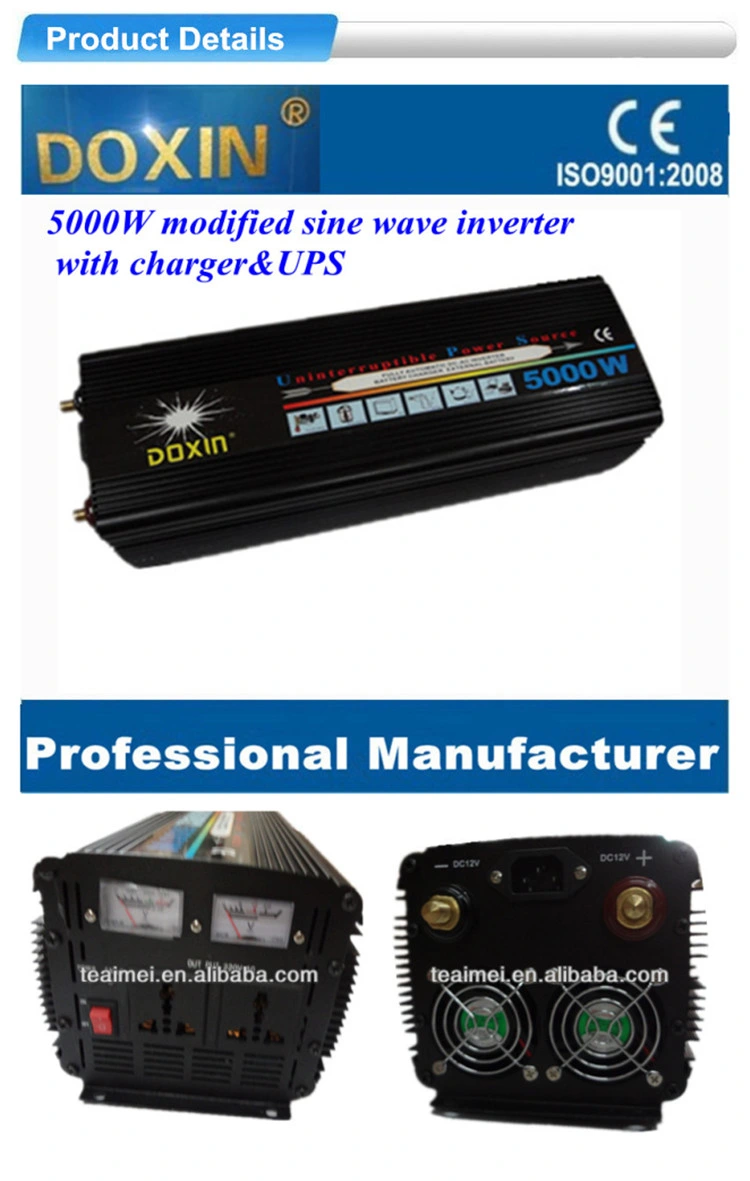 Approved 5000W Modified Sine Wave Inverter with Charger UPS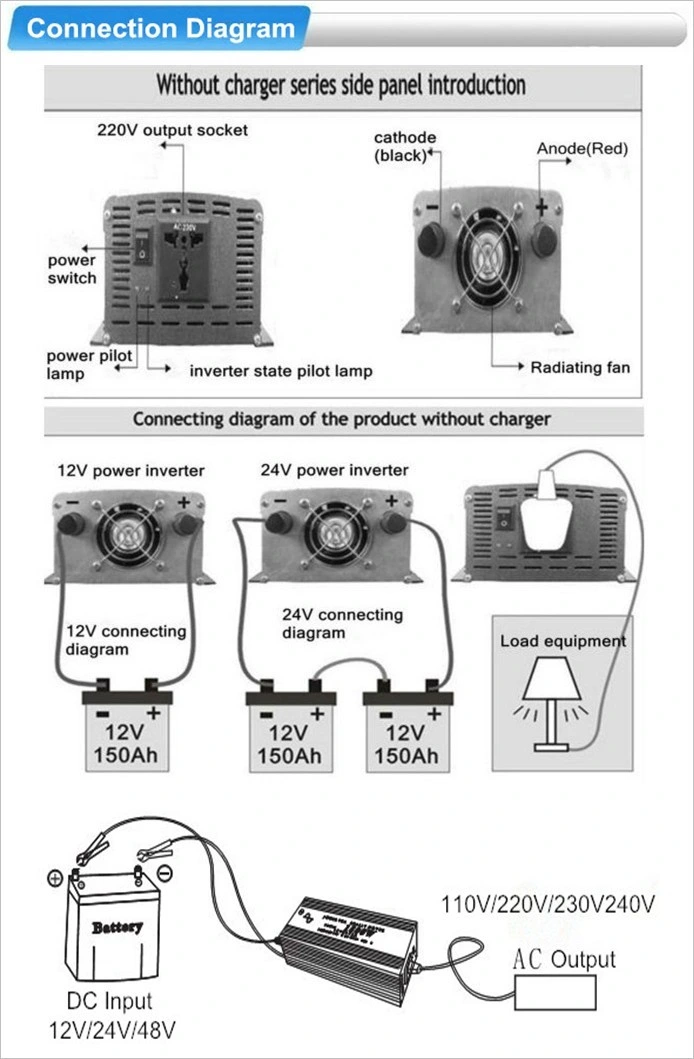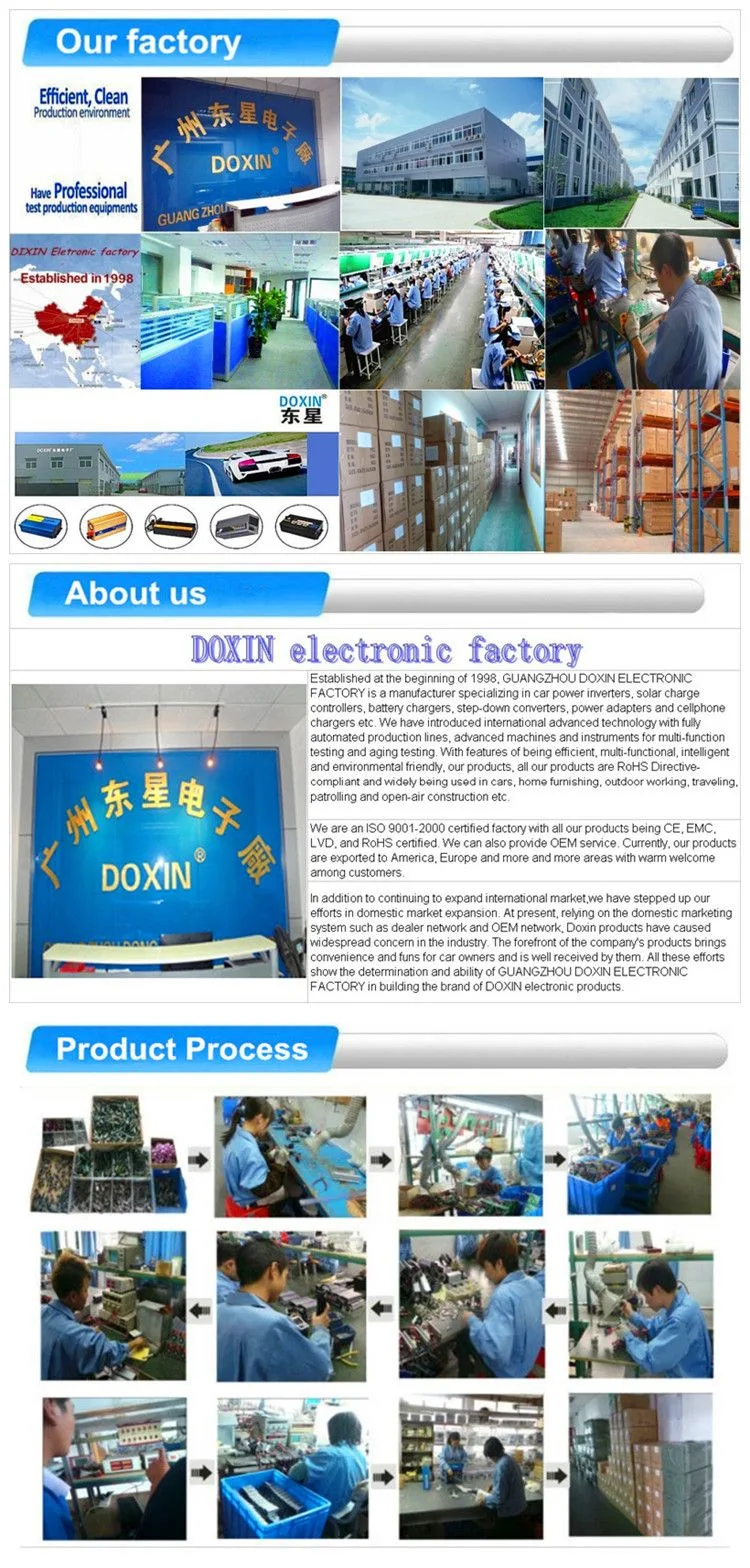 1. Features:
1.Cooling fan, controlled by temp.Automatically, protect the equipments from overheating
2.Cost-effective inverter for home appliances, office equipments, solar/wind systems and outdoor works
3.Use of imported components manufacturing.Advanced circuit design,up to 90% conversion efficiency,strict quanlity management system,modernization of water production,prroduct quanlity assurance.
4.Complete product specifications,different standards at home and abroad,several major series of products can also be designed according to custoer needs.
5.Internal protection circuits to prevent the electrical pulses or voltage fluctuations,the design of self-protection will automatically shut down to protect the vehicle.
6.Aluminum product,high-pressure plasma process Ti surface,high hardness,chemical composition and stability,anti-oxidation,amateur appearance.
7.A variety input and output mode:12V input,24input,220V AC output,110V output,fully able to meet domestic and foreign users of the exchange of electriccity demand.
8.Protection function:Over-load ;Over-voltage ;Low-voltage ;Buzzer Alarm ;Short-circuit ;Over-temperature ;Voltmeter LED Display
2. Applications:
1.Travel Equipment Series:Military vehicle, police cars, ambulances, ships, traffic lights and so on.
2.Industrial equipment series:Solar energy, wind power, metal halide lamps, high pressure sodium lamp and so on.
3.Office equipment series:Computers, printers, monitors, copiers, scanners, digital cameras, digital cameras and so on.
4.Home Equipment Series:Vacuum cleaners, fans, lights, electric cutting knife, sewing machines and so on.
5.Kitchen utensils series:Microwave ovens, electric sheet metal pot, refrigerator and so on.
6.Power tools:Saws, drilling machines, grinding machine, sandblasting machine, stamping machine, lawn mower, air compressor and so on.
7.Series of electronics:TV, DVD, game consoles, power amplifiers, audio equipment, monitoring equipment, servers, satellite communications equipment.It is the ideal equipment to provide the AC for outdoor and the area always shut off the power!
3. Some about us
DOXIN is a professional manufacture specialized in electronics and solar products, We produce electronics products more than 10 years.We have professional development team.We pursues to establish the culture of "quality first, reputation best ".Our products usually are exported big quantity in to Europe, USA, African, Russia, Australiaetc.And our power inverter serials enjoy better reputation.With reliable quality and stable performance.
4. FAQ
1.What is Inverter?
Inverter is an electronic equipment that turn DC12V/24V/48V into AC110V/220V/230V/240V.
2.How many kinds of output wave form for Inverters?
Pure sine wave Inverter:It could provides high quality AC and carry various loads,While it requires high tech and high cost.Modified sine wave Inverter:It can load poorly not carrying inductive load, but the price is moderate.
3.How to choose a power inverter?
Mose of the electronic products are signed out their rated power, and the rated power should be less than the rated power of the power inverter.The method of how to estimate the power(W):The total of load power should be equal to the rated power(W) of the power inverter.You can choose inverter in this way.
Warranty&Return
1 year warranty from date of purchase record:Please email us first if you have any questions or problems with the item received.We will try our best to solve the problem for you.If we cannot help you through emails, we will give you return instructions.No refund or replacement will be processed without the item being returned back to us.We reserve the right to refuse any returns for our reasons.Buyer is responsible for return shipping cost in any situation.We will not be liable to customer for any damages beyond the amount of money that customer has actually paid us.
Item No.
DXP5000WUPS
* Max continuous power:
5000W
* Peak Load Power Rate:
10000W
* NO load current draw:
<0.2A
* Input DC voltage Range:
DC10-15V
* Output Voltage Range:
AC220+/-5%
* Output Frequency Range:
50+/-2Hz
* Max Outer Temperature:
<65ºC
* Max Power Efficiency:
>90%
* High Voltage Cut Off Level:
>DC15V
* Low Voltage Alarm Level:
DC10.0-11.0V
* Low Voltage Cut Off Level:
<DC10V
* Overload and Short-circuit Protection
YES
* Input Voltage:
DC12V
* Output waveform:
Modified sine wave
* AC input Voltage:
220V
* AC Frequency:
50HZ±2Hz
* AC input voltage range:
170-250V
* AC under voltage protection:
≤150V
* AC Over voltage protection:
≥250V
* Charger current:
Max 15A
* DC to AC inverting household electricity supply time: ≤0.5s
* household electricity supply inverting AC to DC time: ≤1s
* Built-in Cooling Fan
Yes
* Product Size:
420*155*120mm
* Packing size(6pcs/ctn)
50*46*47cm
* N.W:
6.4Kg
* G.W:
7.5Kg
MOQ:
10pcs